All current students, alumni, faculty, professor emeriti, postdoctoral fellows, staff and colleagues of Biochemistry are invited to attend our once-in-a-lifetime celebration. Please RSVP through your invitation or by following this link.
Pre-event Golf Day (Mississauga): Thursday, May 2, 2019. Please contact nana.lee@utoronto.ca to join in a round from 12-5 pm
Date: Friday May 3, 2019
Location: Hart House, U of Toronto
Full day agenda of science and career talks by our alumni from industry, academia and government with a reception to connect, reconnect and inspire!
In 1939, as a PhD student in the Department of Biochemistry, Dr. Benjamin Schachter developed the first robust purification of the hormone estrogen and carried out the preclinical work that ultimately led to the development of Premarin, introduced clinically in Canada by Wyeth Ayerst (Pfizer) in 1941. Since then, Premarin has provided relief from symptoms associated with menopause for tens of millions of women.
The Schachter family endowed an annual lecture in honour of their father Benjamin Schachter in 2005. Schachter lecturers are departmental alumni who have gone on to productive careers in the private sector. In addition to serving as a vital link to our graduates, this lectureship is now a critical component in the department's innovative graduate professional development curriculum.
We are highlighting this 80th year momentous occasion to invite all alumni to celebrate their accomplishments in all sectors, to inspire current Biochemistry graduate students, while connecting these impactful alumni stories with each other and with Canada's future scientific leaders.
If you are unable to attend but interested in supporting, any thoughtful donations to help fund the annual Schachter lectureship or the May 3, 2019 celebration are much appreciated.
If you have any questions, please contact Dr. Nana Lee at nana.lee@utoronto.ca.
Thank-you to our individual donors and corporate sponsors!
AGENDA
8:30 am Registration. Posters. Exhibits open. Alumni slideshow.
9:15 am Session One Great Hall
9:15 am Welcome by Dr. Justin Nodwell, Chair of Biochemistry
9:30 – 10:30 Dr. Joel Klappenbach, Dr. Nataliya Melynk-Lamont, Pfizer
10-10:30 Dr. Reinhart Reithmeier 10,000 PhDs – Where are they now?
10:30 -11 Coffee break, networking/posters/exhibits
11 am-12 Session Two: Breakout sessions with career panelists
12-1:30 Networking Lunch with posters, exhibits, slideshow
1:30 – 2:30 Session Three Great Hall
Feature Speakers Dr. Natalie Goto (U Ottawa), Dr. Grace DeSantis (Illumina), Dr. Lindsey Marmont (Harvard)
2:30-2:45 Break, posters, exhibits.
2:45-3:45 Session Four: Breakout sessions with career panelists
3:45-4 Break, posters, exhibits.
4:00 – 5:00 Session Five Great Hall
Feature Speakers Dr. Piotr Sliz (Harvard), Dr. Dan Fitzpatrick (Amgen), Dr. Tina Sing (Berkeley)
5-5:30 pm Three Minute Thesis Presentations
5:30 Reception Networking/posters/extended exhibits
6:30 Remarks by Dr. Justin Nodwell and Dr. Nana Lee
7:30 Remove posters and extended exhibits.
8 pm Hart House closes.
Guest Speakers and Panelists
Reinhart Reithmeier PhD, Professor, University of Toronto
10,000 PhDs – Where are they now?
Reinhart Reithmeier is a Professor and former Chair in the Department of Biochemistry at the University of Toronto, known internationally for his research on membrane proteins in human health and disease.  An award-winning lecturer and graduate mentor, Dr. Reithmeier enjoys teaching introductory biochemistry to over 1,000 undergraduate students every year, as well as upper level and graduate courses.  Through professional development activities like the 10,000 PhDs Project he is dedicated to ensuring that graduate students develop their skills and network to take advantage of diverse job opportunities.  His leadership was recognized by election to the Canadian Academy of Health Sciences.
Grace DeSantis PhD, Director of Product Development, Illumina – San Diego
Enzymes, Assays, Genomics and Disease: From Discovery to Development
Grace completed post-doctoral work at The Scripps Research Institute and doctoral work at the University of Toronto. Grace has lead teams in diagnostic product development, non-invasive prenatal testing, oncology assay development, and enzyme discovery and evolution at various diagnostic and bio-pharmaceutical companies. Grace has published 25 peer reviewed research papers and holds 15 U.S. patents. She completed a BSc double specialist Chemistry and Biochemistry program at U of T in 1994. At U of T, she met her now husband, Michael DiDonato, who completed a PhD in Biochemistry with Dr. Sarkar. Michael is employed at the Novartis GNF Institute. She and Michael, reside in San Diego, California with their two sons.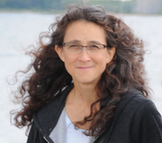 Natalie Goto PhD, Associate Professor, University of Ottawa
Natalie obtained her PhD from the University of Toronto with Lewis Kay and Charles Deber, followed by a postdoctoral fellowship at the Scripps Research Institute. She joined the Department of Chemistry at the University of Ottawa in 2003, using solution NMR to study structure/function relationships of proteins that work at the cell membrane. Targets include rhomboid intramembrane proteases, and the Min family of bacterial cell division proteins that self-organize to form dynamic patterns on membrane surfaces. She is a recipient of the John Charles Polanyi Prize in Chemistry, a Research Corporation Innovation Award and an Early Researcher Award. Natalie is active in the youth baseball community in Ottawa, and a proud synchro-mom. She met her husband as an undergraduate student at the University of Toronto, in the same course that she teaches now at UOttawa (physical chemistry!).
Lindsey Marmont PhD, Postdoctoral Fellow, Harvard Medical School
Pushing the envelope: understanding how bacteria build their protective layers
Lindsey received her BSc in Biochemistry from the University of Waterloo. She then completed her PhD in Biochemistry at the University of Toronto under the supervision of Lynne Howell where she studied proteins involved in biofilm formation.  In 2018, she joined the lab of Thomas Bernhardt, Howard Hughes Medical Institute investigator and a leader in the field of bacterial cell wall morphogenesis at Harvard Medical School. She is currently investigating the role of proteins required for bacterial cell division in Pseudomonas aeruginosa.
Piotr Sliz PhD, Associate Professor, Harvard Medical School
Joel Klappenbach PhD, Senior Director, Emerging Science and Innovation, Oncology, Pfizer – Cambridge, MA
Nataliya Melnyk-Lamont PhD, Field Medical Advisor, Pfizer Canada
Understanding Value of Biopharmaceutical Industry and Science-Related Roles Throughout the Product Lifecycle
Nataliya has been working at Pfizer Canada since 2016 in her current role in various therapeutic areas (Psychiatry, Women's Health, Urology, and Chronic Pain). Nataliya serves as a product and therapeutic area expert in Ontario, develops peer-to-peer relationships with key stakeholders, identifies and manages medical and research partnerships, and gathers clinical practice and market insights contributing to strategic and tactical planning. Before joining Pfizer, Nataliya was working as Medical Science Liaison at Medicure Inc. for 2 years, where she had field-based medical responsibilities in Interventional Cardiology covering U.S. Northeast, and supported clinical development of a pipeline product in Neurology. Nataliya obtained her Hon. B.Sc. from University of Toronto, and Ph.D. from University of Waterloo (Department of Biology).
Tina Sing PhD, Postdoctoral Fellow at University of California, Berkeley, Dr. Elçin Ünal's lab
The journey of a budding yeast scientist
Tina's current research is focused on leveraging the rejuvenation pathways in gametogenesis to reverse cellular aging. Before UC Berkeley, she received her PhD from the Department of Biochemistry at the University of Toronto. Her thesis research in Dr. Grant Brown's lab identified a novel role for a chromatin remodeling complex, RSC, in maintaining the correct number of chromosomes during cell division. Tina's BSc is from Western University where she studied the DNA replication helicase complex, Mcm2-7, with the late Dr. Megan Davey. In her free time, Tina enjoys volunteering with youth outreach programs and playing soccer.
Alexander Marsolais PhD, Principal Consultant, Global Data Healthcare
Alexander joined GlobalData in 2016 on the medical consulting team, and specializes in market assessment and forecasting, market access, and strategy. His work includes both quantitative and qualitative market research across a wide range of medical specialties, including cardiovascular medicine, medical diagnostics, orthopedics, and general surgical procedures. He also advises on market research methodology on GlobalData's syndicated research projects. Prior to joining GlobalData, Alexander worked as a Senior Analyst at Decision Resources Group and developed an expertise in cardiovascular medicine while authoring reports on diverse markets in the US, Europe and Asia. Alexander holds a PhD in Biochemistry from the University of Toronto, with a research focus in the area of cell biology and gene expression.
April Pawluk PhD, Scientific Editor, Cell
April holds a PhD in Biochemistry from the University of Toronto and a BSc in Biology from the University of Waterloo. After graduating from the University of Toronto in 2016, April did a short postdoc in Jennifer Doudna's lab at the University of California, Berkeley, working on CRISPR-Cas technologies. Realizing her passions lied more with communicating science and thinking about the big picture, rather than sitting at the lab bench, April joined the team at the journal Cell as a scientific editor. For the past two years, April has been handling research articles through the submission and peer review process, selecting the best articles for publication, and traveling to scientific conferences around the world to hear the latest exciting research across the biological sciences.
Alex Therien PhD, Vice President and Head of Biology, Inception Sciences – Montreal
Alex Therien obtained his Ph.D. from the Department of Biochemistry at McGill University in Montreal in 1999, followed by a post-doctoral fellowship at the University of Toronto, under the supervision of Dr. Charles Deber. In 2002, Dr. Therien made the jump to drug discovery and joined the Merck Frosst Center for Therapeutic Research in Montreal. In 2008, Dr. Therien relocated to the Merck research site in Kenilworth, NJ, where he led various drug discovery programs focused on multi-drug resistant bacterial infections. Dr. Therien's work at Merck led to the development of bezlotoxumab, an antitoxin antibody therapy that was approved by the FDA in 2016 for the prevention of recurrent C. difficile infections. In 2017, Dr. Therien returned to Canada, accepting a position as Vice President and Head of Biology at Inception Sciences in Montreal, a drug discovery biotech company focused on discovering novel therapeutics for inflammatory bowel disease.
Steven Molinski PhD, Contract Services Manager, Centre for Commercialization of Regenerative Medicine
Steven received his PhD (Biochemistry, 2016) from U of T under the supervision of Christine Bear at SickKids, where he was involved with drug discovery efforts for rare Cystic Fibrosis mutations. Steven then joined Cyclica (Toronto-based drug discovery software company) as an Application Scientist leading internal R&D projects and business development efforts. Currently, Steven is the Contract Services Manager at the Centre for Commercialization of Regenerative Medicine (CCRM), responsible for global business development for CCRM's unique process development and cGMP manufacturing services for biotech/pharma companies developing cell and gene therapies. To date, Steven has co-authored 20+ peer-reviewed publications and two patents.
Chloe Rapp Gregory MSc, Marketing Programs Specialist at GSK
Chloe holds a MSc in Biochemistry from the University of Toronto and a BSc in Biology from Ryerson University. She began her career with GlaxoSmithKline working in the Respiratory Division as a territory associate. This role allowed her to learn the pharmaceutical landscape and obtain her CCPE. She now works as the Marketing Programs Specialist for GSK and is solely responsible for managing all marketing programs, including conferences, commercial booths and Product Information Sessions in Canada for the Vaccines and Respiratory Sales, Medical and Marketing teams. Other responsibilities include managing third party contracts, creating new conference hardware, designing tier 1 conference plans, liaising with external conference coordinators and collaborating with the GSK pharmaceutical leadership teams. Currently, Chloe is enjoying maternity leave after becoming a first time mom to her son, Hunter.
Jean-Philippe Julien PhD, Assistant Professor, University of Toronto & Scientist, Hospital for Sick Children
Dr. Julien received his H.B.Sc. from McGill University (2005), and his Ph.D. from the Department of Biochemistry at UofT under the supervision of Dr. Emil Pai (2010). He then performed postdoctoral work at The Scripps Research Institute (2010-2014). Since 2014, Dr. Julien is a Scientist in the Molecular Medicine Program at SickKids and an Assistant Professor in the Departments of Biochemistry and Immunology at UofT. Dr. Julien's research seeks to understand how immune molecules interact, and how this information can be applied to the design of next-generation vaccines and immunotherapies. Dr. Julien holds a Canada Research Chair in Structural Immunology.

Pamela Plant PhD, Genomics Specialist, Li Ka Shing Knowledge Institute, St Michael's Hospital
Pamela obtained her PhD from the Department of Biochemistry at University of Toronto/Hospital for Sick Children with Daniela Rotin, followed by a postdoctoral fellowship at the Mt. Sinai Lunenfeld Research Institute with the late Tony Pawson. After a brief time at the CHUV Medical Centre at the University of Lausanne, Switzerland, she worked in the Clinical Sciences Division/IMS at U of T with Jane Batt. From there she took her current position as Genomics Specialist at  the Keenan Research Centre for Biomedical Science at St. Michael's Hospital. Pamela spends her non-science time playing piano, singing in the St. Michael's employee choir, doing swimming, cycling, skiing, yoga and enjoying travelling, camping and canoeing with her two children.
Paul Yip PhD, Associate Professor, University of Toronto & Clinical Biochemist, Sunnybrook Health Sciences Centre
Dr. Paul Yip is a graduate of the University of Toronto completing both B.Sc. and Ph.D. degrees in Biochemistry.  After completing the Postdoctoral Training Program in Clinical Chemistry at UofT, he joined University Health Network (UHN) in Toronto as a Clinical Biochemist.  He recently joined Sunnybrook Health Sciences Centre as Head of Biochemistry in the Department of Laboratory Medicine and Molecular Diagnostics.  Paul's interests are in the areas of test utilization, laboratory quality management and point-of-care testing.  He is cross-appointed to the Department of Laboratory Medicine and Pathobiology, where he collaborates on educational and research activities. Paul enjoys discovering Toronto's great neighbourhoods through food, culture​, and sports.
Sian Patterson PhD, Associate Professor, Teaching Stream, U of Toronto
Sian Patterson is responsible for the coordination and instruction of undergraduate lecture and lab courses. She holds a Ph.D. in Biochemistry from the University of Toronto in 2011 and has extensive experience in both academia and the pharmaceutical industry through the co-operative education program during her B.Sc. at the University of Guelph. Sian is the recipient of the 2015 Excellence in Undergraduate Life Sciences Teaching Award from the Faculty of Medicine at the University of Toronto, and as a TA, received three departmental teaching awards as well as being a 2010 nominee for a TA teaching Excellence Award at the University of Toronto. She is actively involved in curriculum and faculty development, focussing on the design and facilitation of student learning, both in the Department but also through her work with the 1st year MD program and the School of Continuing Studies. Sian enjoys translating her biochemical knowledge of metabolism to her activities outside of class, both in the gym and kitchen.
.
Kelsey Law PhD, Analyst at Bloom Burton & Co.
Kelsey holds a PhD in Biochemistry from the University of Toronto and a BSc. in Biology from Ryerson University. She gained business development experience as a Business Analyst at an engineered cell therapy start-up company, Triumvira Immunologics Inc., performing business and scientific/clinical analysis of addressable markets and programs. She now works as an Analyst with the healthcare investment firm Bloom Burton & Co. as part of the monetizing planning team. Her responsibilities include scientific, clinical and medical due diligence to support the growth strategy and monetization planning of pharmaceutical, biotechnology, and healthcare companies. Kelsey enjoys spending weekends at her fiancé's family cottage in Bancroft.
Anthony Partridge PhD, Senior Principal Scientist, Merck Sharp & Dohme – Singapore
Dr. Anthony Partridge leads programs in the early discovery space at MSD.  Previously, he was Senior Director of Biology at Pharmaron Beijing where he led a team focused on assay development/validation, screening, and built a world-class compound management facility.  As an In Vitro Pharmacology Capability Lead at Merck, he pioneered collaborative efforts with pharmacology-based CRO partners. Prior to this, he was a Senior Scientist in the Pharmacology group at Merck Montreal.  Dr. Partridge began his industry based career at Élan Pharmaceuticals in San Francisco. He has authored twenty peer-reviewed scientific publications in such journals as Cell, J. Clin. Invest., and JBC. He received his B.Sc. from the University of Guelph (1998), his Ph.D. from the University of Toronto (2003) and completed post-doctoral training at Scripps/UCSD (2003-2006).
Liliana Sampaleanu PhD, Deputy Director, Formulation Excellence Sanofi Pasteur
Liliana obtained her PhD in Biochemistry at University of Toronto, specializing in structural biology (X-ray crystallography). She continued her research at Sick Kids Hospital as a Postdoctoral Fellow and Research Associate Scientist working on medical biofilms. Liliana transitioned to the bio-pharmaceutical industry by joining Sanofi Pasteur as a Scientist, working on New Vaccine projects and contributing to successful Phase I/II clinical trials.  As a Deputy Director she led teams involved in complex investigations with high impact on regulatory approvals (FDA) and in supporting commercial manufacturing of combination pediatric and booster vaccines. Liliana is also Project Lead on a key strategic initiative to develop and implement a new process with customized equipment and process analytical technology (PAT).

Mike Tsay MSc, Director of Bioinformatics, Netramark
Mike Tsay brings 18 years of bioinformatics experience in both academic and industry R & D at DNA Software Inc., Ontario Cancer Institute, Tsay Consulting and most recently at Netramark Corporation. NetraMark is an AI company with dedicated solutions for pharmaceutical companies with a unique machine learning platform for Personalized Medicine, Drug Resurrection, and Drug Discovery through classical and quantum computation. Mike earned his BSc at Cornell University and an MSc in Biochemistry with Dr. Sarkar at the University of Toronto. He enjoys playing golf and hockey and resides in Toronto with his wife and three children.
Monique Deol MSc, Clinical Study Start-Up Manager, Hoffmann-La Roche Canada Limited.
Monique has worked in the pharmaceutical and clinical research industry for over 10 years. Monique has a MSc (Biochemistry) from the University of Toronto and Bachelor of Science degree (Biochemistry and Biomedical Sciences) from McMaster University. In her free time Monique enjoys traveling and spending time with her family.
Nikko Torres PhD, Research Scientist, Ranomics
Nikko earned his B. Sc. and his Ph. D. from the department of Biochemistry at the University of Toronto. He is currently a research scientist at Ranomics, a biotech startup working to understand the importance of genetic variants in human disease.
Bruce Seet PhD, MBA, Director of Medical Affairs, Sanofi Pasteur
Dr. Bruce Seet started his career in bio-pharmaceuticals in 2006 and held multiple roles at GlaxoSmithKline over 8 years. Since 2014, he has been Director, Medical Affairs, at Sanofi Pasteur Canada. He also holds the position of Adjunct Professor at the University of Toronto's Department of Molecular Genetics. Among his volunteer activities, Bruce serves as a mentor and coach to young scientists and is the President and founder of the Science to Business Network (www.s2bn.org), a grass-roots non-profit organization formed in 2011 that promotes the professional development of young scientists as well as innovation in Canada by connecting industry and academia. He also serves on the Research Management Committee as well as the HQP Development Committee for BioCanRx, a Network Centres of Excellence (NCE) that accelerates the clinical development of promising cancer immunotherapies in Canada. Bruce earned a B.Sc (Honours Human Physiology) and a Ph.D. (Microbiology and Immunology) from Western University (London, Canada), followed by a postdoctoral research fellowship at the Lunenfeld Research Institute at Mt. Sinai Hospital (Toronto).
Peng Leong PhD, Chief Strategy Officer at Engine Biosciences – Boston
Mark Surka PhD, Head, Medical Affairs, Oncology at Sanofi Genzyme
Alex Palazzo PhD, Associate Professor, Department of Biochemistry, U of Toronto
Schachter Organizing Committee: Graduate Students Brian Hicks, Esther Shin, Kyla Germain, Natalia Moskal, Jan Falguera. Faculty Justin Nodwell, Reinhart Reithmeier, Trevor Moraes, Haley Wyatt, Kate Lee, Nana Lee.
Hosts
Justin Nodwell
Reinhart Reithmeier
Nana Lee
Symposium Code of Conduct
The Department of Biochemistry is committed to providing a professional, friendly, safe, and welcoming environment for all participants at its Benjamin Schachter Symposium, regardless of gender, sexual orientation, disability, race, ethnicity, religion, national origin, or other protected class. We expect participants and speakers to help ensure a safe and positive symposium experience for everyone.
Acknowledgment of Traditional Land
We wish to acknowledge this land on which the University of Toronto operates. For thousands of years it has been the traditional land of the Huron-Wendat, the Seneca and, most recently, the Mississaugas of the Credit River. Today, this meeting place is still the home to many Indigenous people from across Turtle Island and we are grateful to have the opportunity to work on this land.